This post may contain affiliate links. If you click a link and buy something, I may receive a small commission at no extra cost to you.
The Fisher Price Rainforest Jumperoo is a best-selling free-standing bouncer/activity center that will help your baby to  take his or her first steps.
Designed to meet your little one's needs as he or she grows and develops, its comfortable seat can turn a full 360 degrees.  This rotation will give your baby easy access to a range of brightly colored toys and music, sounds, and lights.
Suitable for infants who can hold their heads up on their own, the Rainforest Jumperoo has multiple seat height options, so it should get at least 7 or 8 months use, if not more.
Made by Fisher Price, one of the world's leading baby toy manufacturers, as with all of their products, the Rainforest Jumperoo is constructed to an incredibly high specification with safety, comfort, and durability being a priority.
Keep reading to find out more about the Fisher Price Rainforest Jumperoo Bouncer, to help you decide if it's worth buying.
Fisher Price Rainforest Jumperoo Specs
Dimensions – The Fisher Price Rainforest Jumperoo measures approximately 43″ (H) x 32″ (W) x 37″ (D).
User height & Weight – This model is suitable for infants up to 32 inches tall, weighing no more than 25 pounds. 

Overview
The Fisher Price Rainforest Jumperoo Bouncer is one of the most popular and highly-reviewed baby products of its type.
Brightly colored, it has light, sound and music capability and it comes with rainforest-themed soft toys.  These are designed to stimulate an infant's mind and help them to develop motor skills and visual and auditory senses.
Infants love the time they spend in their comfy, bouncy Rainforest Jumperoo, jumping and playing with the toys that dangle from its overhead canopy.  Included among these is monkey swinging on a vine, and parrot suspended from a beaded bar.  There's also an elephant that bobs up and down and a tiger who plays hide and seek.
Additional toys include a lizard that rattles as it spins, a spinning beaded drum and ball, an attached chew toy, a row of chips decorated with brightly colored graphics, and more.
The toys vary in texture to provide tactile stimulation.  They also help young kids develop eye-to-hand coordination.  And, when they swat at a toy or pushes a button and it plays music, or a light comes on, they learn about cause and effect.
The sounds the jumper makes are pleasant and not intrusive.  A volume control button enables you to turn the level down in a quiet setting, or up in a noisy one.
The Rainforest Jumperoo has a built-in motion sensor that 'rewards' the infant by activating lights and sounds when they jump.
Along with keeping your child mentally stimulated and engaged, it will let them burn off energy, which will potentially result in a more restful night's sleep for the entire family.  
The motion of jumping also aids in developing leg strength for that all-important time when your little one begins walking.
When they are ready to take their first steps, extend the frame to enable forward and backward movement.  Not having wheels, you need never fear the bouncer will move too quickly, or too far.
The Jumper has a removable toy tray.  There's also a fixed tray which can hold additional toys or snacks.
Assembling the Fisher Price Rainforest Jumperoo is very straightforward, and it should only take around ten minutes.  Unlike some activity walkers, this one will not need to be set up in a doorway.  This extends your placement options.
Being light in weight and able to be folded, the Rainforest Jumperoo is very portable.  Its frame can be pivoted and nested for tidier storage if you need to pack it away.  Its padded seat can be removed and washed if thorough cleaning is required.
Are there any Negatives?
The main negative I see with the Rainforest Jumperoo Bouncer is that it requires a bit of space.  Not a lot, mind you, but slightly more than some similar products.  So if you don't have a lot of room to spare, be sure to check its dimensions before purchasing.
Also, the Rainforest Jumperoo is a little more expensive than some other bouncer/activity centers.  However, its price is reasonable considering its quality and longevity.  And, with it being durable, any other children you have later on should be able to use it.
Fisher Price Rainforest Jumperoo Summary
The Fisher Price Rainforest Jumperoo is a fun, safe toy that will mentally stimulate your child and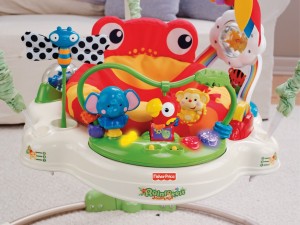 encourage healthy development.
Children love the entertainment aspect of it.  Parents love that it is safe and that it enables their child to learn as they are having fun.  They appreciate that the Fisher Price Rainforest Jumperoo will support their child as he or she takes their first steps.  The volume control button also gets the thumbs up.
Thousands of customers have left feedback for the Jumperoo, with the vast majority of it being extremely positive.  It's fair to say that it is one of the most popular products of its type, and definitely worth considering if you are looking to buy a baby bouncer/activity center.
To read an overview of seven of the best baby bouncers, click here.